The Fiesta Clásica Foundation is a music education center for children in the Dominican Republic. Its financing is secured by private donations from individuals, companies and institutions both national and international.
Making a donation means:
Being part of our project.
Provide opportunities to the children so they can improve their lives and build their future.
Share with them the love for classical music.
Take advantage of tax provisions.
For its part, the Fiesta Classical Foundation guarantees:
Offer free music lessons to students.
A high level of competence of teachers.
Develop new social and educational projects.
A regular report on its activities.
Régimen tributario de las donaciones en República Dominicana:
En virtud de lo dispuesto por el Código Tributario de la República Dominicana (Ley No. 11-92) las donaciones realizadas a favor de Instituciones Sin Fines de Lucro o instituciones de bien público, se encuentran sometidas al siguiente régimen:
"Las donaciones efectuadas a instituciones de bien público, que estén dedicadas a obras de bien social de naturaleza caritativa, religiosa, literaria, artística, educacional o científica, serán deducibles hasta un máximo de un cinco por ciento (5%) de la renta neta imponible del ejercicio del ejercicio fiscal en el que se haya efectuado, después de efectuada la compensación de las pérdidas provenientes de ejercicios anteriores, cuando corresponda. (Artículo 287 de la Ley 11-92). Las donaciones o regalos serán tratados como deducción únicamente si se determina en la forma requerida por los Reglamentos de la referida Ley 11-92".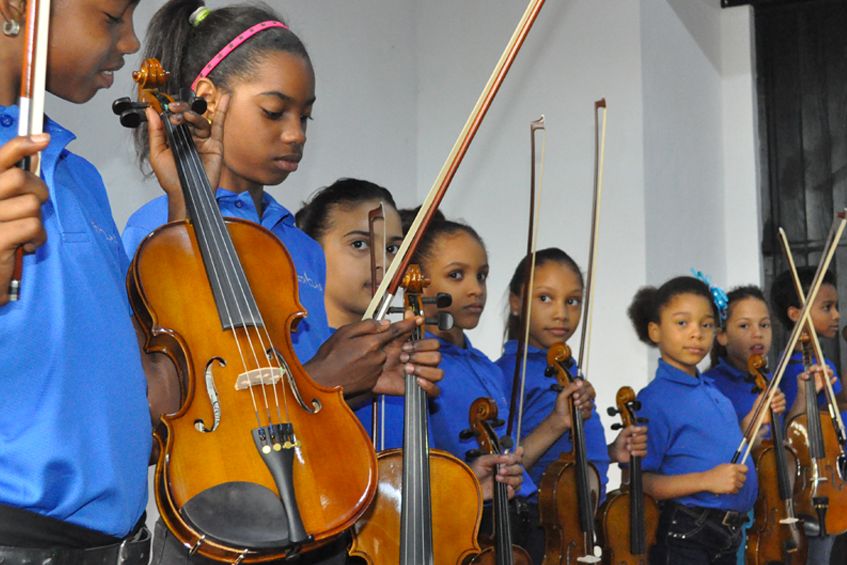 In order to allow each student to have his or her own instrument and thus continue working at home and to integrate our orchestra, we need several instruments.
Maybe you have an instrument available, of any kind even in bad conditions. Thanks to your donation a child will have the opportunity to learn and practice. Contact us to organize your donation.